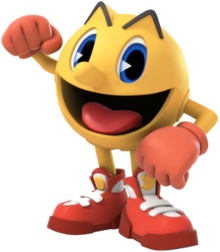 Current appearance of Pac-Man, from the upcoming television series Pac-Man and the Ghostly Adventures.

Biographical Information
First game
Pac-Man (1980)
Created by
Tōru Iwatani
Designed by
Tōru Iwatani
Pac-Man is the protagonist fictional character of the franchise of the same name by Namco, who was first introduced in the arcade game Pac-Man in 1980. Ever since, the character has appeared in more than 30 officially licensed game spin-offs, as well as in numerous unauthorized clones and bootlegs, spawned a variety of Pac-Man merchandise with his image, as well as a television series. Pac-Man became a worldwide social phenomenon and Namco's mascot.
Character design
Pac-Man's origins are debated. According to the character's creator Tōru Iwatani, the inspiration was pizza without a slice, which gave him a vision of "an animated pizza, racing through a maze and eating things with its absent-slice mouth".[5] However, he admittedly said in a 1986 interview that the design of the character also came from simplifying and rounding out the Japanese character for a mouth, kuchi.[6] The character's name was originally Puck-Man, This name comes from the Japanese folklore character Paku who was known for his appetite as well as by the Japanese onomatopoeic slang phrase paku-paku taberu,[7] meaning to open and close ones mouth. When Namco licenced the game to be released in the The United States, they changed the game and character's name to "Pac-Man" after fearing that vandals would change the P in Puck to an F.
The arcade art on the original Puck-Man portrayed the character as a yellow circle with a large mouth as well as hands, feet, eyes and a long nose. In-game Pac-Man was represented as a two-dimensional sprite of a simple yellow circle with a mouth. 1984's Pac-Land was the first game (of many) to use his arcade art in-game. More recently Pac-Man appears as a full three-dimensional polygonal model. His design went through two minor changes from the Puck-Man cabinet art over the years, the first made his nose smaller in the 1990s and the second altered his eyes and shoes in 2010.
Appearances
In Video Games
Main article: List of Pac-Man video games
Pac-Man first appeared in the original action game of the same name. Despite Pac-Man's legacy, Pac-Man himself would not appear again until the 1982 arcade release of Super Pac-Man, which introduced a change into Super Pac-Man (Pac-Man increased in size and invulnerability). Later arcade games include Pac-Land, Pac-Mania and Pac-Man Arrangement, a remake of the original Pac-Man. Pac-Man World was released in 1999 on the PlayStation, and introduced new abilities to him (reminiscent to Mario's and Sonic the Hedgehog's abilities). The game contributed heavily to the series as well as the character and spawned two sequels and a spin-off as well. Pac-Man World 2 features Pac-Man on an adventure to rescue Pac-Land from an ancient spirit known as Spooky. Pac-Man World 3 was released in 2005 to celebrate Pac-Man's 25th anniversary. In Pac 'n Roll, a young Pac-Man is being trained by the great Pac-Master. Several spin-offs have been released, such as a racing game Pac-Man World Rally. Midway Games established a spin-off titled Ms. Pac-Man (featuring Pac-Man's wife of the same name), which was created without Namco's consent. Pac-Man also appears in Street Fighter X Tekken as a guest playable character, riding a giant Mokujin robot. Pac-Man has appeared in all Mario Kart Arcade GP installments as a playable racer.
Other Appearences
"Pac-Man Fever", a hit single named after the character, reached number nine on the Billboard Hot 100 in the United States in March 1982[14] and was certified Gold by the RIAA that same month. In the late 2000s, a feature film was reported to be in development. Pac-Man starred in the 1982-1983 Pac-Man cartoon voiced by Marty Ingels. Pac-Man works to keep Mezmaron and the Ghost Monsters from finding the Power Pellet Forest. In 2010, a computer-generated animated series was reported to be in the works. It was later revealed as Pac-Man and the Ghostly Adventures, which aired on Disney XD in 2013. The series revolves around a teenage Pac-Man (aka Pacster or Pac), who protects Pac-World from ghosts alongside his highschool friends. The character has also made several cameo appearances, including in the TV series Mad segments (episodes "Super 80's" and "Diary of a Wimpy Kid Icarus"), Family Guy (episodes "Stuck Together, Torn Apart" and "Stewie Griffin: The Untold Story"), Futurama (episode "Anthology of Interest II"), Drawn Together (episode "Gay Bash"), Annoying Orange (episode "Pacmania"), Robot Chicken (episodes "Tubba-Bubba's Now Hubba-Hubba", "Fool's Goldfinger", "The Core, The Thief, His Wife and Her Lover" and "Butchered in Burbank"), Tiny Toon Adventures (episodes "Gang Buster's" [the character's shape is formed by Plucky's eyeballs] and "Buster and Babs Go Hawaiian" [as an air plane called "Plane-Man"]), The Simpsons (episode "Homer and Ned's Hail Mary Pass"), South Park (episode "Imaginationland Episode III") and the movies Tron and Wreck-It Ralph. The character was the main mascot of the children's play area Pac-Man Land which was located in Six Flags Over Texas 1983-1985. It was then changed to Looney Tunes Land.